I held a fun afternoon workshop at my home over the weekend, showcasing items from the Autumn/Winter Mini Catalogue. Everyone attending got to make 2 Make n Takes so I thought I would share them with you this week.
The first one used the great Top Note die, and the new 2 Step Bird punch.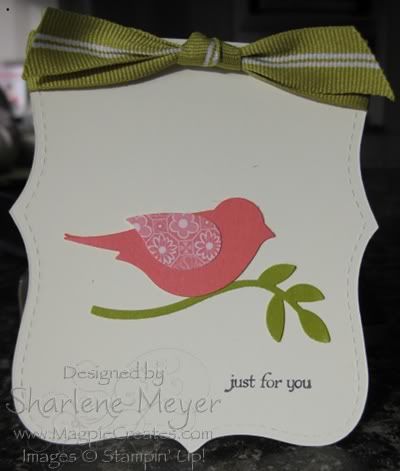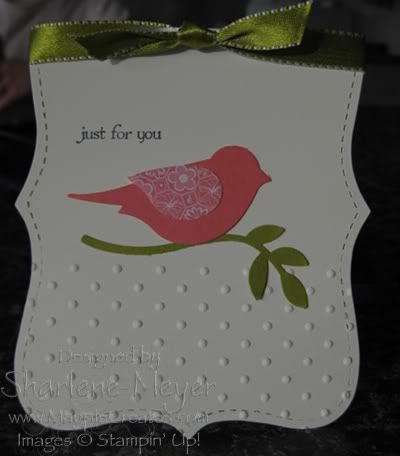 This card was a great way for everyone to try their hand at using the Big Shot. Participants could choose to keep theirs simple, or dress it up a little with the Polka Dot Embossing Folder. I will share the second card later in the week.
I am often asked to show people the best way to tie ribbon on cards to get a nice flat knot. Whilst i do my best to teach it in workshops, sometimes you need to see it several times in succession to get it right, so I thought I would share the video I used to teach myself to tie knots. You can find it
here
. I highly recommend watching it a few times, and then trying it whilst you follow along with the video. Then you want to sit and just keep tying knots over and over about 10 or 15 times. After that you should be able to tie them anytime you like without having to think about it too much!
Have a great week everyone!
Materials
Stamps: Teeny Tiny Sentiments
Cardstock: Very Vanilla, Kiwi Kiss, Cameo Coral, Pink Flamingo DSP
Ink: Basic Grey
Other: Big Shot Die Cutter, Top Note Die, Polka Dot Embossing Folder, 2 Step Bird Punch, Kiwi Kiss Satin Ribbon, Kiwi Kiss Double Stripe Grosgrain Ribbon